The Jacksonville Armada just finished their inaugural season, setting league attendance records and thrilling fans of the beautiful game in the city in the process. We had the pleasure of putting the Armada footballers in some of the season's finest men's fashions for Jacksonville Magazine's December fashion editorial — on newsstands now.
Styling: Fitz Pullins
Hair: Grazyna Mercado
Makeup: Jackie Neal
Video: CollabCreation Films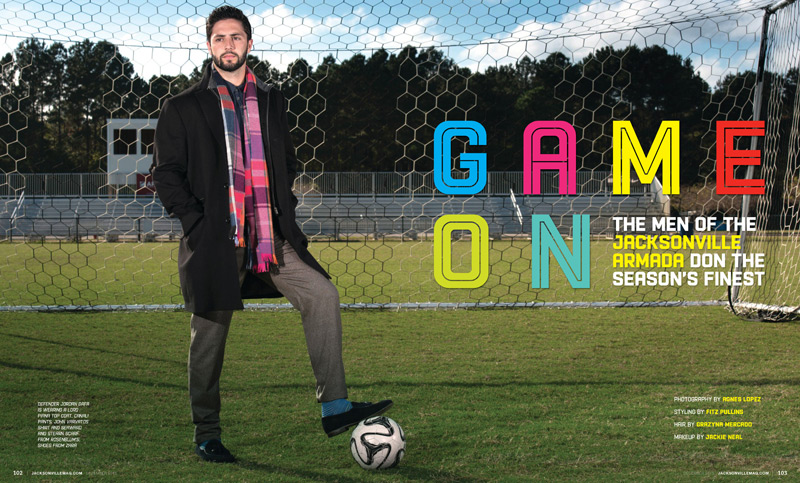 Defender Jordan Gafa is wearing a Loro Piana Top coat, Canali Pants, John Varvatos shirt and Seaward and Stearn scarf from Rosenblum's; shoes from Zara.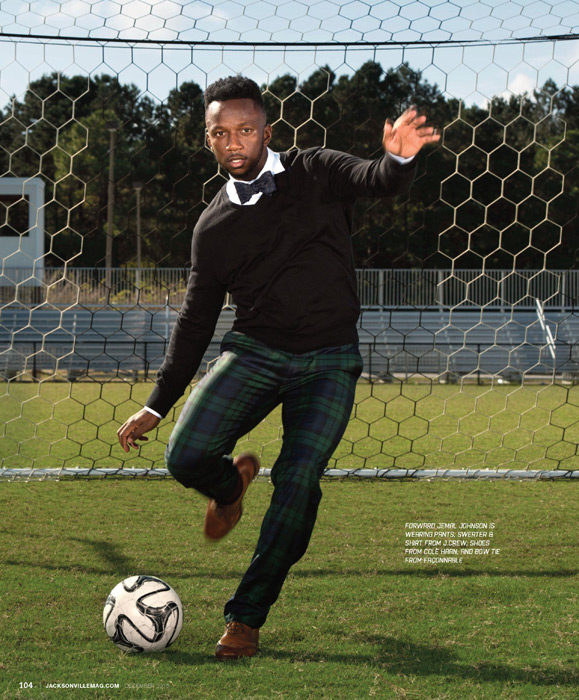 Forward Jemal Johnson is wearing pants, sweater & shirt from J.Crew; shoes from Cole Haan; bow tie from Façonnable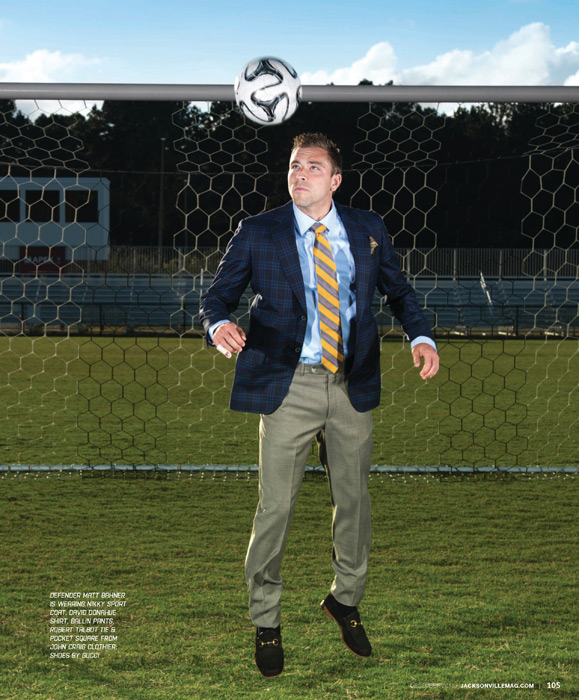 Defender Matt Bahner is wearing Nikky Sport coat, David Donahue shirt, Ballin Pants, Robert Talbot tie &
pocket square from John Craig Clothier; shoes by Gucci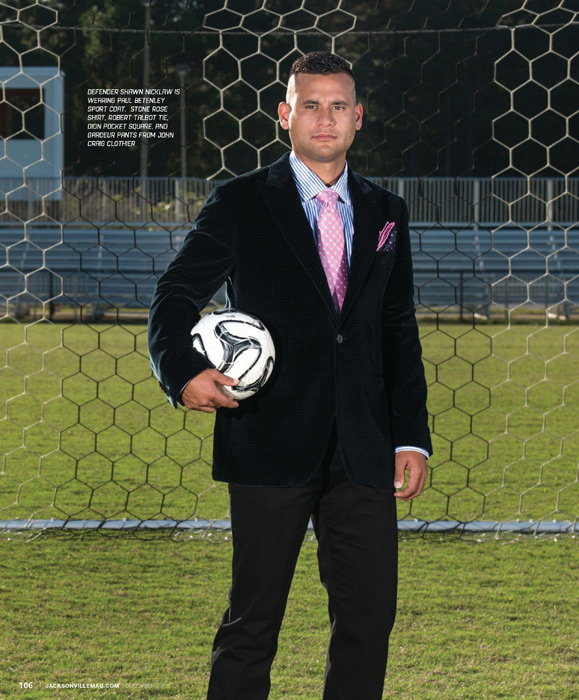 Defender Shawn Nicklaw is wearing a Paul Betenley sport coat, Stone Rose shirt, Robert Talbot tie, Dion pocket square, and Gardeur pants from John Craig Clothier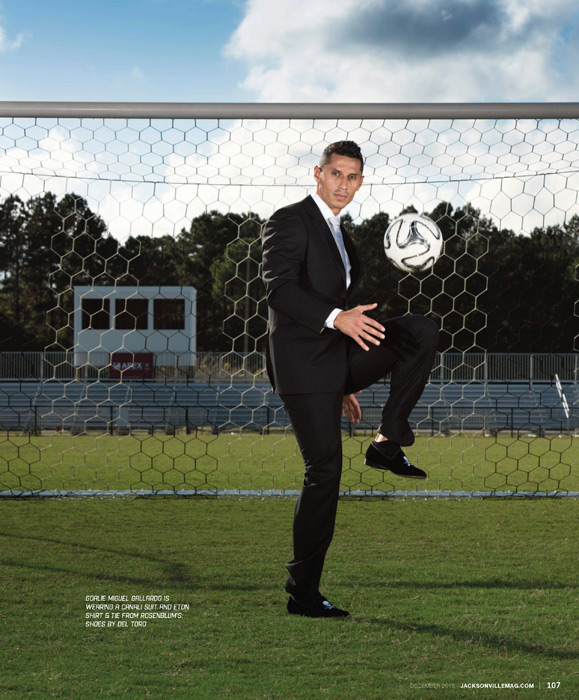 Goalie Miguel Gallardo is wearing a Canali Suit and Eton shirt & tie from Rosenblum's; shoes by Del Toro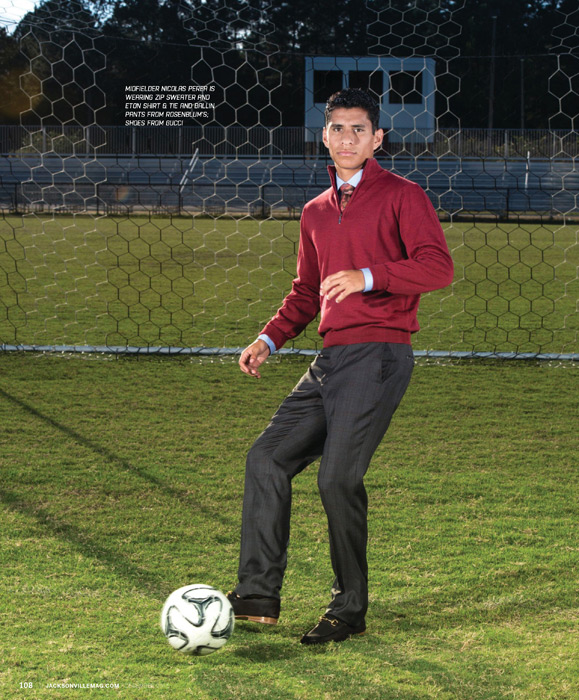 Midfielder Nicolas Perea is wearing Zip sweater and Eton shirt & tie and Ballin pants from Rosenblum's; shoes from Gucci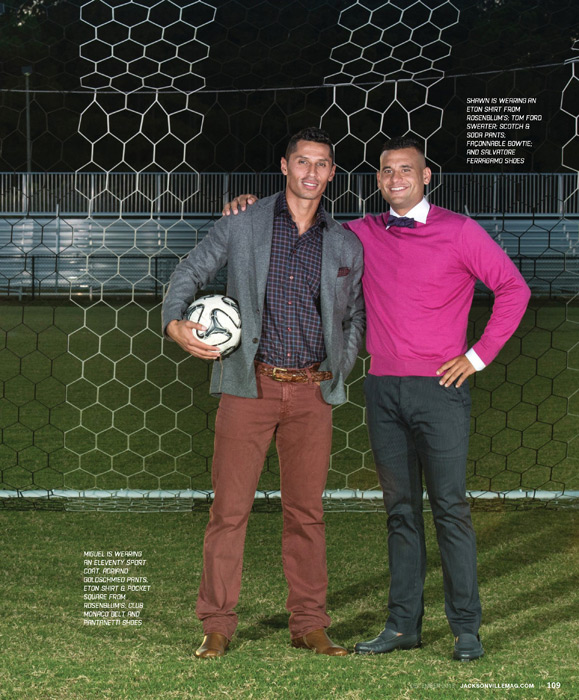 (Left) Miguel is wearing an Eleventy Sport coat, Adriano Goldschmied pants, Eton shirt and
pocket square from Rosenblum's; Club Monaco belt and Pantanetti shoes
(Right) Shawn is wearing an Eton shirt from Rosenblum's; Tom Ford sweater; Scotch & Soda pants;
Façonnable bowtie; and Salvatore Ferragamo Shoes
And special thanks to the team at CollabCreation Films for putting together this teaser video from the shoot!